Smiths Interconnect introduces Slimat® elastomeric test sockets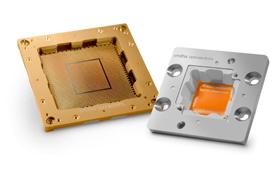 Smiths Interconnect announced today the availability of Slimat® elastomeric test sockets, specifically targeted for digital high speed and PoP (package on package) test applications.
 
Smiths Interconnect's Silmat® elastomeric test sockets bring to market an advanced, low profile contact technology enhanced by best-in-class design engineering and test development practices, providing customers with a competitive edge in the rapidly evolving semiconductor test industry.
 
Silmat® sockets ensure an extremely short signal path enabling stable contact resistance, low inductance and a high frequency bandwidth of -1dB @ 40 GHz.  Composed of a patented core elastomer technology and contact set, Silmat® sockets feature a single component set enabling reduced maintenance and tester downtime through quicker changeovers.  The sockets also provide long life (over 500K cycles), high durability and over 4 amp current carrying capacity.
 
Gabriel Guglielmi, Smiths Interconnect Vice President of Business Development and Strategy commented, "Silmat® confirms Smiths Interconnect as a critical partner to global developers of PoP and digital high speed device technology." Guglielmi further remarked, "Supported by our worldwide engineering, sales and manufacturing resources, Smiths Interconnect has introduced Silmat® elastomeric test sockets through a series of customer launch events in EMEA, Asia and America. The response to these events has been outstanding as customers recognize the next generation test capabilities enabled by this innovative solution."   
For more information visit our Silmat® Elastomeric Test Sockets page.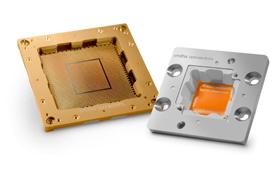 Smiths Interconnect announced today the availability of Slimat® elastomeric test sockets, specifically targeted for digital high speed and PoP (package on package) test applications.
 
Smiths Interconnect's Silmat® elastomeric test sockets bring to market an advanced, low profile contact technology enhanced by best-in-class design engineering and test development practices, providing customers with a competitive edge in the rapidly evolving semiconductor test industry.
 
Silmat® sockets ensure an extremely short signal path enabling stable contact resistance, low inductance and a high frequency bandwidth of -1dB @ 40 GHz.  Composed of a patented core elastomer technology and contact set, Silmat® sockets feature a single component set enabling reduced maintenance and tester downtime through quicker changeovers.  The sockets also provide long life (over 500K cycles), high durability and over 4 amp current carrying capacity.
 
Gabriel Guglielmi, Smiths Interconnect Vice President of Business Development and Strategy commented, "Silmat® confirms Smiths Interconnect as a critical partner to global developers of PoP and digital high speed device technology." Guglielmi further remarked, "Supported by our worldwide engineering, sales and manufacturing resources, Smiths Interconnect has introduced Silmat® elastomeric test sockets through a series of customer launch events in EMEA, Asia and America. The response to these events has been outstanding as customers recognize the next generation test capabilities enabled by this innovative solution."   
For more information visit our Silmat® Elastomeric Test Sockets page.