You are here
M12 Circular W Series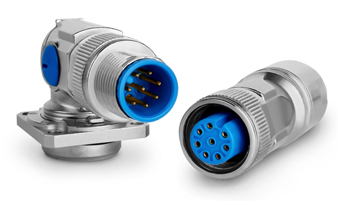 Reliable contact technology
Outer body diameter 15mm
For cable diameters up to 10mm
Over-moulded and free assmbled versions
COMPACT DESIGN
M12 Connector series has been specifically developed for applications where space or weight are at a premium. The compact and robust design incorporates hyperboloid contacts to provide an unrivalled performance. The new design features a unique side loading contact retention system that provides a positive contact retention and simplifies the assembly process. This simplified approach to contact assembly not only makes the product series very user friendly, but also reduces assembly times. Within a common housing design, Smiths Interconnect M12 series includes insert options from 3 to 8 ways, with both crimp and solder contact terminations available. 
360° ELECTROMAGNETIC SHIELDING
Smiths Interconnect M12 series, are ideal for communication applications, including factory automation, drive motors, machine tools, robots, conveyor systems, handling machines and elevators, etc. They all feature outstanding protection against electromagnetic interference through a full 360° screen connection. 
OPTIMISED EMBODIMENT
A complete range of options and accessories are available as standard, making the series suitable for a wide range of applications. In addition, the total number of components used in the design has been optimized to reduce stocking requirements on free assembled versions. 
Additional Features:
Contact assembly with sideway clip insulator design
Fire and smoke compliance UL94 V0/HB
Robust housings
Environmental level IP67
360° electromagnetic shielding
Crimp and solder contacts
Machined and stamped contacts
Very compact design Ø 15mm
Fluid resistance against oil, hydrolysis, microbes
Vibration resistance acc. to DIN EN 60068-2-64
RoHS compliant
Specifications
Coding
A-code, D-code
Shell
CuZn, zinc die-cast, plastic
Shell Plating
nickel-plated
Sealing
FKM
Insert
PA
Contact Size
?1mm / ?0,8mm
Contacts
CuZn alloy, tin bronze
Contact Plating
Gold-plated and partly gold-plated
Current Rating
4 A (2 … 5 contacts)
2 A (6 … 8 contacts)
Voltage Rating
90V acc. NF F 61-030
250V acc. DIN 61076-2-101 (4 contacts)
60V acc. DIN 61076-2-101 (5 contacts)
30V acc. DIN 61076-2-101 (8 contacts)
Operating Temperature
-40°C to 125°C
All specifications are subject to change without notice